First Foot Guards
---
Sir Henry Clinton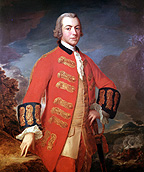 Click
for a larger picture
Copy of original attributed to Andrea Soldi about 1758.
National Army Museum, London
Henry Clinton entered the British Army in 1751, becoming a Captain in the 1st Regiment of Foot in 1758.
In 1775, at the outbreak of the American War of Independence Clinton, now a Major General, was sent to America. He distinguished himself at the Battle of Bunker Hill and played an important role in the subsequent Battle of Long Island and the capture of New York. In 1778 Clinton became Commander in Chief of the British forces in North America. Hoping to conserve his forces by a strategy of raids, he was frequently at odds with his second in command, Lord Cornwallis, who favored large-scale military operations.
After the dramatic capitulation of Cornwallis at Yorktown in 1781, which turned the tide of the war, Clinton resigned his command. Subsequently he and Cornwallis engaged in a public campaign of mutual vilification. Clinton was promoted General in 1792 and became Governor of Gibraltar in 1794.
---
Return to homepage
Click