First Foot Guards
---
Colonel George Coussmaker
by Sir Joshua Reynolds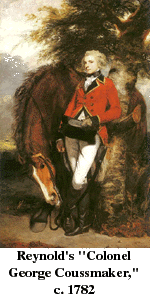 A larger image of this painting
Click
The sitter: Col Coussmaker
Capt & Lt. Col Coussmaker is wearing the frock coat (the coat without the bastion loop lace). He is holding his unlaced hat (a hat with ferret or silk ribbon on the brim rather than the parade gold lace). He has riding boots with spurs appropriate to a horseman, and grey kid gloves worn by most men who today attend Royal Ascot horse race.
He does appear to be young, maybe late teens early twenties, but he would have had to be in the Regiment at least a few years to obtain the rank of Captain.
We don't know too much about the man, except that he married the Hon Catherine Southwell in 1790 and had a single child, Sophia Coussmaker.
The artist: Sir Joshua Reynolds
Reynolds, the great portrait painter, was born near Plymouth, Devon, the son of a headmaster. Intended by his parents for the medical profession, he showed an ability for art, and in 1740 he was sent went to London to pursue his art studies, becoming a apprentice to Thomas Hudson, a leading portraitist. However, he found himself most influenced by William Hogarth. Reynolds set up as a portrait painter himself in Devon in 1743, but returned to London later that year. From 1749 to 1752 he lived in Rome, where he studied the works of Michelangelo and Raphael. He established himself in London, becoming one of the country's most distinguished portrait painters, painting such luminaries as General John Burgoyne, Admiral Lord Hood, Jeffery Amherst, Josiah Wedgwood (of pottery fame), Warren Hastings (who controlled India), Sir Joseph Banks (the botanist and explorer) and David Garrick (the actor).
When the Royal Academy was set up in 1768, Reynolds was appointed its first President. (Academicians to this day add the letters RA behind their names). In the following year he was knighted. In 1784 Reynolds became Principal Painter to the King, but his Royal portraits were not a success. He ceased to paint, because of failing eyesight, in the summer of 1789 and he died in London on 23 February 1792. He was buried with great pomp in St. Paul's Cathedral. A bronze statue of him was placed in the courtyard in front of the Royal Academy in 1912.
There is no question that Reynolds was a great painter, and his works are to be found in many galleries such as the NYC Met and the Wallace collection in London. Later ages viewed him differently: he received a bum rap from the Pre-Raphaelites as they attacked the establishment of the Royal Academy. They called him 'Sir Sloshua Reynolds' because they said that he covered his paintings with a thick coating of brown varnish to hide mistakes and give a general warm glow to his paintings.
Nonetheless, Reynolds's painting technique was often experimental and many of his pictures have not lasted well because of that.
---
Return to homepage
Click