First Foot Guards
---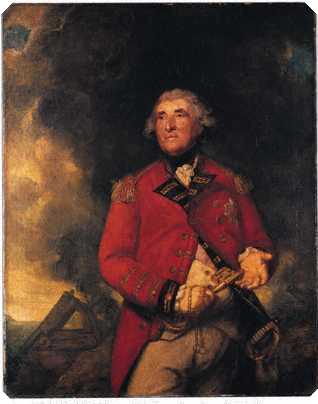 Lord Heathfield of Gibraltar,1787
Painted by Sir Joshua Reynolds RA (1723 - 1792)


In 1775 George Augustus Eliott, Lord Heathfield (1717-90) was appointed Governor of Gibraltar, where he withstood a famous blockade (1779-83).
He is wearing a Major General's uniform, as Gage, Clinton, Howe and Cornwallis would have worn.
He holds a key to the citadel of Gibraltar, with a view to the peninsula in the background. A cannon points steeply down towards the sea and the sky is darkened by smoke.
Oil on canvas

Brief history of British Gibraltar
1704 Capture of Gibraltar by naval commander Sir George Rooke.
1739 Lieutenant-General Sabine appointed governor of Gibraltar. Succeeded by General Columbine, then General Hargrave.
1749 General Bland appointed Governor.
1753 General Fowkes appointed Governor, followed by Lord Tyrawley and Lord Home.
1762 Hon. General Edward Cornwallis appointed Governor. Edward Cornwallis (1713-1776) founded Halifax, Nova Scotia. He was the sixth son of Charles, fourth baron of Cornwallis, and Lady Charlotte Butler, daughter of the Earl of Arran. At the age of 21, in 1734, Cornwallis was made a major of the 20th Foot and was appointed to the personal staff of the Duke of Cumberland. In 1745 he joined his regiment in Flanders and fought at the Battle of Fontenoy, and at Culloden with Cumberland.
1775 Right Hon. General George Augustus Eliott (1717-1790) was appointed Governor, and withstood a combined French and Spanish siege 1779-1783 which lasted 3 1/2 years. As a result of his successful defense he was raised to the peerage as Baron Heathfield of Gibraltar in 1787.
Major Charles O'Hara, Second Foot Guards, who took part in the American campaign (notably the surrender at Yorktown) became governor after the Revolutionary war 1787-1799. He was much loved by the people, and gained the name "The Old Cock of the Rock".
See our article on O'Hara Click
1802 Edward Duke of Kent, Governor of Gibraltar
General O'Hara was succeeded by the Duke of Kent as Governor in 1802.
He closed half the taverns in the town but built his own brewery
"to supply wholesome liquor to his troops". That's what he said.
Edward Augustus, Duke of Kent and Strathearn (1767-1820) was the fourth son of King George III, and father of Queen Victoria.

---
Return to homepage
Click